High-Quality Fence Installation for Wisconsin & Minnesota Residents, Business Owners, and Farmers
Looking for a high-quality, durable fence that will stand the test of time? You can look no further than A to Z Quality Fencing. Our experienced installation experts are known throughout Wisconsin and Minnesota as the premier fence installers in the industry. We use only the highest quality materials and state-of-the-art installation techniques to install fences that are strong, long-lasting, and easy to maintain.
At A to Z Quality Fencing, we specialize in aluminum and vinyl fencing, which are ideal options for a wide range of residential and commercial applications. In addition, we install cedar wood, chain link, horse, privacy fencing, outdoor structures, and more.
Whether you're looking for a fence for your home, business property, or farm, our team will work with you to find the perfect solution that meets your needs and budget. And with our years of experience, you can rest assured that your fence will be expertly installed and look great for years to come.
We'll work with you every step of the way to deliver a superior product and ensure your complete satisfaction. As licensed, trusted, and local designers, we'll give your backyard the best fence replacement or installation it deserves. Get a free online quote or contact us today to learn more!
Residential Fencing
A to Z Quality Fencing designs and installs wood, aluminum, vinyl, and chainlink fence to meet any need. We use high-quality materials including our own vinyl and aluminum.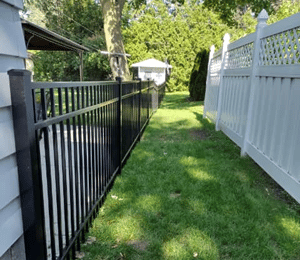 Commercial Fencing
Just like our residential fencing, we can meet any fencing need with our custom designs & installations utilizing commercial-grade materials.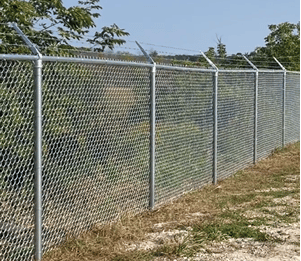 Horse/Farm Fencing
A to Z Quality Fencing has been installing high-quality, low-maintenance horse fences at Wisconsin, Minnesota, and Illinois horse farms for over 29 years.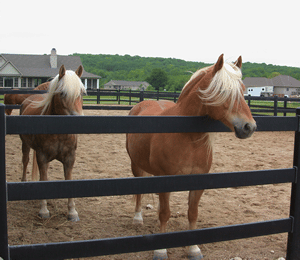 We Make Clean-Up Easy
No Mess Installation Fence Installer!
A to Z Quality Fencing created a no-mess installation process that is better and lasts longer than fences installed using traditional posts and post-hole digging. All A to Z Quality Fencing fences include hidden galvanized posts pounded into the ground thus creating a long-lasting, sturdy structure. So, what's the best part?
No dirt piles for fence owners to clean up afterward!
Quicker installation – fence installer labor is reduced because hole digging and filling is eliminated.
Extends the life of your fence because no part of the fence that could rot is buried below the ground.
Makes future fence repairs easier and less expensive because of the unique fence assembly.
Enables year-round fence installation.
Stronger, sturdier fencing because the galvanized steel posts are pounded deeper into the ground than traditional hole-digging and filling methods.
There is one caveat. Sometimes, when working close to utilities, post holes do need to be dug to avoid hitting the utilities and a dangerous situation. A small amount of clean-up will be needed in this situation.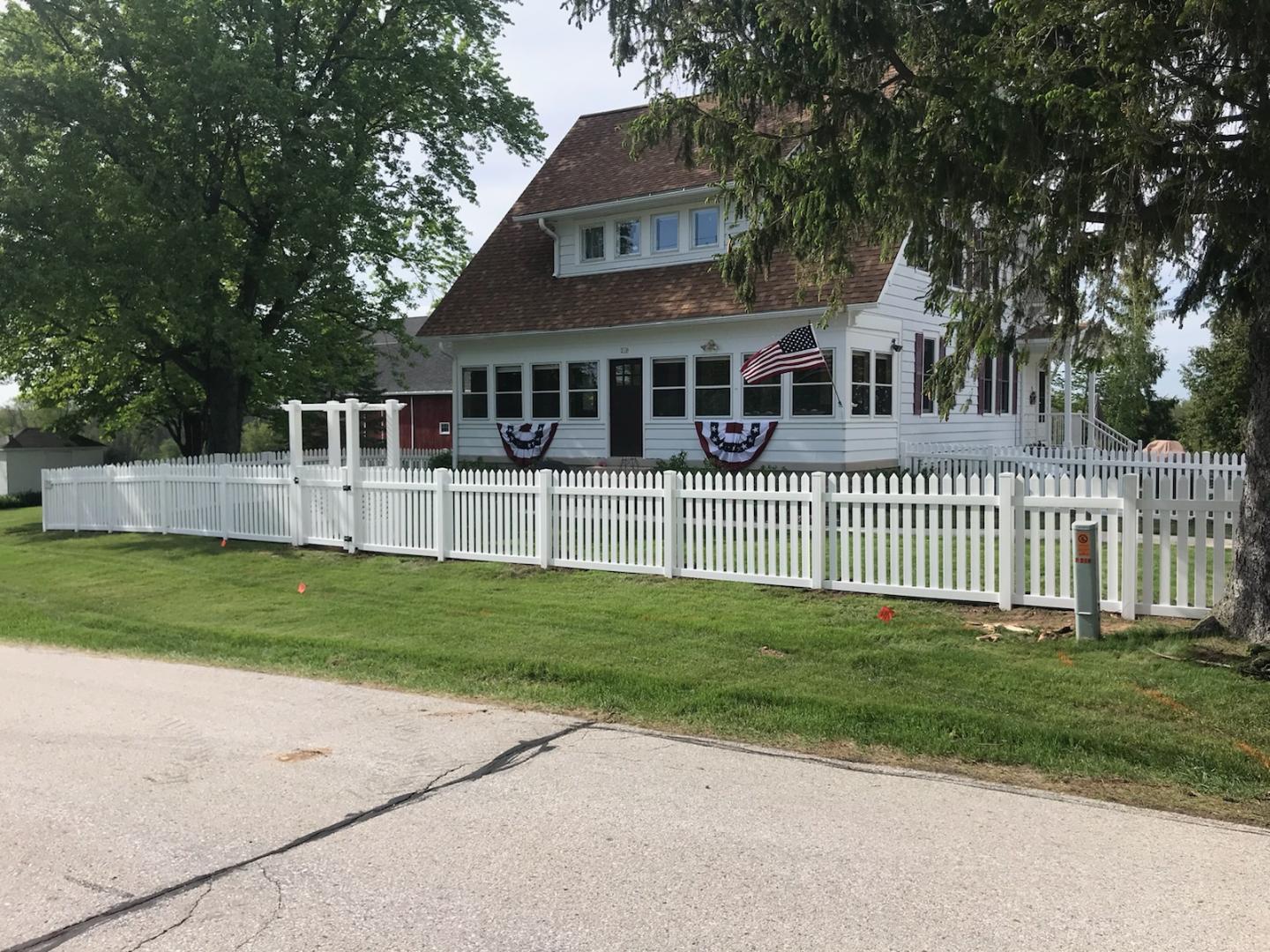 Dreaming of a Custom Fence?
We Manufacture Our Fence Materials
A to Z Quality Fencing formed a sister company, A to Z Fence Supplies, to create high-quality fence materials that are not readily available on the market. Our goal is to create custom fencing solutions that meet the needs and desires of our clients, using quality materials that are manufactured specifically for us. Specifically, the ability to design at the level of material manufacturing allows us to be creative and come up with unique fencing designs!
Want to Know More?
Our Fence Installer Blog
We Strive for Customer Satisfaction
Highly Rated, Custom Fence Installer
For more than 29 years, A to Z Quality Fencing & Structures has satisfied customers in Wisconsin, Minnesota, and Illinois. Furthermore, owners Aaron and Renee Smith have impressed customers with personal customer attention on fencing options, professional design, and quality installation needs for years. Check out what some of our satisfied customers say!
A to Z is a great company!
Everyone we dealt with was very professional and the installers did a great job finishing the job very quickly making sure any issues were dealt with to our satisfaction- GREAT JOB!
Duane Winter- Brownsville
Thank you for all your hard work!
We are very happy with our fence! Tanya was amazing! She kept in contact with us throughout the whole process. The installation crew was very friendly and answered any questions I had.
Yolanda Smith- Neenah
We have already recommended A to Z to others
Tanya kept us well informed throughout the entire process. The installation crew was very efficient and friendly. The fence looks great and appears to be high quality.
Mark Manthey- Hartland
All around GREAT experience!
From getting a quote, to coming and staking the yard, to assisting with permit issues, through the installation process- communication and workmanship was great! Not only do we personally love the new fence but we have also had numerous neighbors come over and tell us how beautiful it is. All around great experience!
Chris Hansen- Oak Creek
Best price and quick turn around time
I called 3 companies to get an estimate for a spring installation. I chose A to Z because they not only had the best price but also could install in 2 weeks. Great communication and the installers were fantastic!
John
Our fence is a great quality, very fair price and looks great!
We were impressed with A to Z Quality Fencing from the initial contact to the end product. Traci was responsive, helpful, honest and easy to work with. Aaron, the owner, checked in with us along every step of the process. The fence crew was friendly, prompt and efficient. Our fence is a great quality, very fair price and looks great!
Rachel
The workmanship is pure perfection in a very difficult site.
I am extremely satisfied with the installation and quality of my fence. The workmanship is pure perfection in a very difficult site. Mr. & Mrs. Smith were extremely kind and professional as well as experts at their job.
Patty
Customer service was excellent
I found A to Z easy to work with and am very pleased with our new fence. Customer service was excellent: Traci expertly facilitated the online process of getting an estimate and Aaron thoroughly answered all my questions regarding the contract. Installation, by Aaron and Travis, went smoothly. I highly recommend A to Z to anyone in need of a fence.
Priscilla
Stuck to the schedule and there were ZERO surprises
I was very impressed by your company, and in particular, your personal response time to everything. Even better, your team stuck to the schedule and there were ZERO surprises, which is great in my world. When your guys arrived, they were super easy to work with. Very personable and I could tell that they cared about the product and result. I was very worried about my in-ground irrigation, but so were they! They wanted to make sure nothing screwed up my irrigation lines, and that was quite refreshing. The job was done by the time I got home, and I couldn't have been more happy about that. My only worry, literally my only worry, is that the gates' latches seem a bit far away. They certainly close just fine right now, but they are right on the cusp. And considering I have a soon-to-be 100+ pound dog, I worry she could just run right through it. But so far, it has held. I might have someone come check it out in the summer, but it hasn't been a big deal so far. A co-worker was talking about needing a fence and I immediately told him to think about you guys. Thanks for everything you provided, we truly appreciate it! And the fence has been a huge help.
Peter
Performed the work on schedule and just as the contract described
I want to express my thanks to you and your company for the very good work done in the installation of a new fence on my property in Williams Bay. Our primary home is in Oak Park, IL and we were away during the installation and only came up to the lake on Sunday to examine the completed fence. We were very pleased that it was done so well. We had scheduled the project with Lowe's in Delavan and provided the necessary information, plat survey, etc. and the work was scheduled with your company following some preparatory clearing of the site. Your team performed the work on schedule and just as the contract described; clearing away the old fence and removing the materials off-site. The new fence is straight for the full run from front to back of the year. The posts and individual cedar pickets are a good, clear cedar, a great even color. I assume this will weather to an even, silvery gray color in time. We are very pleased with the work. Please express our gratitude to your business office, the installers and others of your team who completed this project.
Tim
We could size the fence to fit our budget
Your front office people were very knowledgeable. They helped us with the preliminary quote enough that we could size the fence to fit our budget. The whole process was simple and timely.
Greg
Exceptional customer service!
Exceptional customer service! From the first time we contacted A to Z and talked with Traci who answered all our questions, to Gary the salesman, to the great team that installed our fence, there was great communication every step of the way.
Amanda
I loved the online quote tool.
I loved the online quote tool. Everyone who helped us was extremely friendly and followed through. I absolutely love how the fence looks and the quality is excellent. Thank you!
Heather
The quality of the materials is outstanding.
We are so very pleased with our fence, it is great! The quality of the materials is outstanding. We have had many, many compliments on how nice it looks. Matt and his crew worked tirelessly in this summer's heat and humidity; the office staff was flawless in the scheduling and answered any question we had promptly. We highly recommend A to Z Quality Fencing.
Robert
Our job was small but we still felt very important
Very nice feature – online quote – giving you an idea of the cost. Matt did a great job from quoting job to finished product. Easy to work with. Fence looks great! Our job was small but we still felt very important to Matt as his customer.
Mike
I am so incredibly happy with the fence
I am so incredibly happy with the fence. The crew was amazing and I feel they treated our property as if it were their own. The lead man was so friendly and really managed the project so well!!!
Domenica
Owner of A to Z even came to check!
Awesome experience, from start to finish. The crew was well trained, polite, got right to work and stuck with the project. Removed and installed 325 feet of high quality fence in 2.5 days, amazing! Owner of A to Z even came to check!
Roger
Went smoothly from start to finish
The process of getting our new fence was easy and went smoothly from start to finish. Everyone we dealt with was knowledgeable and professional. The installers are very hard-working and take the time to do things right. The fence looks great.
Fred
The efficiency of the crew is second to none.
The efficiency of the crew is second to none. The amount of work they completed in a day amazed me. Not only were they fast, the quality of the install was fantastic. Great job A to Z!!
Curtis
I have already passed along & recommended your company.
My new fence is beautiful! It has surpassed my expectations! I especially love how "beefy" & "substantial" the fence looks. Also, the hardware used is decorative and charming. The crew who came to my house was respectful & very efficient. I have already passed along & recommended your company.
Gina
I have the best fence in the neighborhood.
The shopping, selection, and purchasing processes were so easy. I am pleased to have the best fence in the neighborhood. Staff worked non-stop in drizzle. I couldn't even ply them away with pizza for lunch.
Lynn
I can't say enough wonderful things…
A to Z Quality Fencing is professional, respectful, and provides quality work, just like their name! We had vinyl fencing installed – in a day! Completely from scratch, the 2 man team put the panels together – working with the grading in our yard. It is totally custom and is exactly what we wanted. Looks fabulous, will last forever. Quality work and a great team. I can't say enough wonderful things and if anyone needs a fence…don't hesitate, call A to Z!
Courtney
So glad I chose A to Z Fencing
From the website presentation and all the phone calls with questions, every contact has been confident and friendly. Every step along the way was great. I choose a fence style not pictured on the website and wanted you to do it. I had another quote from someone who would have done it right away for less money. I choose to wait and pay more with A to Z Fencing. Glad I did. I was impressed with how calm and quiet the day was when they were here. It was so peaceful out there. My dogs were even calm inside. The best part is how my dogs love running and playing in the bigger space. I videotaped the first steps for the dogs. The one dog ran the fence from one end to the other with such freedom. She checked out all the perimeter lines. We will spend a lot of great times out there knowing that my dogs can't get out. I'm calm and relieved. Makes a much better pack leader for sure. I got this now! I can do it! 3 bichons, 2 pit bulls, no problem! You have all been amazing!
Nancy
Quick, clean & paid attention to detail
We needed to replace our old cedar fence. Our posts and materials were in a constant need of replacement. We called the professionals and were extremely pleased with the results. They were quick, clean & paid attention to detail. We feel we could not have gotten a better product.
Mike
The fact that I was done in 1 day was awesome.
Everything was explained and in writing when quoting the job. Installation was done professionally. Removal of the old fence was done quickly and cleanly. The fact that I was done in 1 day was awesome.
Jeffrey
The whole process from quote to complete was simple…
The fence is beautiful! I've received lots of compliments! Installation was fast. The whole process from quote to complete was simple and everyone has been very friendly and professional.
Christine
So happy to find a quality company
So happy to find a company whose goal is to supply quality materials, installation & complete satisfaction.
Cindy
More testimonials and information about our feedback program are available on our testimonials page.
Fence Installation With You In Mind
Trying to decide on a local fence company for your fence installation? Here are some facts that set A to Z Quality Fencing apart from other fencing contractors:
EMPLOYEES/INSTALLERS: For your safety and comfort all of our employees go through a strict application process which includes a background check and extensive drug screening. All fence and structure installers are properly trained by A to Z Quality Fencing and receive continued training during employment.
ACCREDITATIONS: A to Z Quality Fencing is a founding member of the North American Fence Contractors Association (NAFCA). Owner, Aaron Smith is a former Regional Director for NAFCA.
DEDICATED CREWS: We use our own dedicated employee crews for every fence installation. This means one crew will start and finish your job giving you a better-built, high-quality fence installation.
Guarantees and Warranties
FENCE INSTALLATION & WORKMANSHIP: Each of our installations is warrantied for seven years from the date of installation against defects in craftsmanship.
VINYL MATERIALS: All vinyl fencing materials supplied by A to Z Quality Fencing from A to Z Fence Supplies…..guaranteed to be American-made….down to the last screw on your hardware. We believe in putting Americans back to work!
CEDAR & WOOD FENCE: All cedar fences include 5"×5" gate posts set 48″ in the ground using cement to prevent frost heaves that cause gate malfunctions.
WOOD GATES: Premium hand-built gates with 24 fasteners, Gorilla Glued mitered corners, and one screw seven inches long in each corner. The strongest frame in the industry. These gates come complete with a full seven-year warranty.
CHAIN LINK: Chain link fences get a full 15-year warranty with all chain link fence installations. This is the longest warranty in the industry.
What Everyone Should Know Before Talking to a Fencing Contractor
01. What do I need to know to make a smart buying decision?
Purchasing a fence can be confusing. Face it, you don't buy a fence very often, but when you do, you want your fence to last a long time and look great for years to come. Although there is a lot to know about what contributes to making a smart decision in purchasing a fence, it really comes down to
quality and variety of materials;
construction & installation techniques;
competitive pricing; and
the experience of the contractor
to ensure that you get the fence that is right for you at the right price.
02. How do you know if the contractor has the proper experience?
A good contractor will spend enough time with you before you make your decision answering any questions you have, making you aware of the many options that exist, and also helping you determine exactly what you want in a fence, so that you wind up with the product that is best for you. He should also have a good working knowledge of the neighborhood or subdivision where you live, so that he is aware of all local codes, and even be familiar with the soil density and rock content of the area to help anticipate any possible needs his crews will have when installing your fence in your yard.
03. How do I know what fence is best for me?
Fences play many roles, and there are different styles that meet different needs. Some styles of fences provide greater levels of security than others. Other styles provide more privacy. Still other styles will look better with some types of houses than others. A good contractor will be able to offer any style of fence you might desire, be able to completely and concisely answer any questions you have about it, and be able to install it with his owned trained & experienced crews.
04. How long should it take to install my fence?
It depends on the size of the job, but most fences can be installed in one to three days. There is no reason to have to wait days or weeks between when the fence posts are installed, and when the rails, gates, and the rest of the job is completed. This is the sign of an over-extended contractor. Avoid at all cost contractors that drag out the installation process for more than three days. An installation should always be completed without day gaps.
05. What do I need to know to look for in a quality fence?
A quality fence is made up of the finest materials, combined with an installation process that leaves you with a fence that is straight, level, sturdy, and one that will stand up to the test of time and give you at least 15 to 20 years of service and peace of mind. The better the materials and installation techniques used, the longer your fence will last.
06. How can I tell if the fencing contractor is using the proper materials?
It can be hard to tell sometimes if your fencing contractor is using the proper materials, because you ask for specifics, you will most likely be given a bunch of general statements and platitudes that really don't tell you anything. A competent fencing contractor should want to share specifics about the materials he is using, and why they are the best available. For example, if you were considering a wood fence, you would want to know that your fence would be constructed of a premium Grade Cedar. Premium Grade Cedar is the best wood material to use because it grows slower making it stronger, has fewer knots.
07. What do I need to know about the installation process?
The installation process can impact your satisfaction with your new fence long after the installation is forgotten. How deep are the fence posts sunk in the ground? If they are not at least three feet below the surface, your fence is much more likely to wobble and go out of line before it should. How do they ensure that every run is level and true? We use a system called the Bi-Lateral Alignment Process that runs a double line high and low on opposite sides of the fence posts that makes it impossible to be set improperly, ensuring that the fence run is straight and level every time!
08. What is the biggest problem I need to watch out for with a wood fence?
The gates on most wood fences sag and stick within 90 days of the installation. That's why most contractors will only warranty their gates for 90 days. We warranty ours for 7 years! We can do this because we build ours different. We build them with a mitered picture frame construction with two diagonal supports, hand nailed to prevent splitting and cracking. Did we mention we warranty them for 7 years?
09. What do I need to know if I'm getting a vinyl fence?
If you decide on a vinyl fence, you want to make sure that they only use virgin vinyl under the outer shell, not recycled. In most styles they should use six-foot sections instead of eight-foot sections, which will sag over time. If they use an 8' section then the rails should be 2"x7".   They should only use top quality vinyl, so that the exterior profile looks like wood, not plastic. When the concrete is poured into the postholes, it should top off six to eight inches below the soil line to avoid freeze damage in the winter. There should also be an anti-frost heave bar installed at the bottom of every post. There is a lot more to know about buying a vinyl fence, but these are some basic points that any contractor should cover up front. If he doesn't, or has different answers, find a different contractor.
10. How about an aluminum fence?
All aluminum is the same, but what happens to it when it is manufactured into a fence product makes all the difference in the world. We use an advanced powder coating system that allows us to produce a high quality, long lasting finish. All components are extruded from 6005-T5 alloys, with a minimum ultimate strength of 35,000 psi. What this means is your fence will stand up to anything mother nature or the neighborhood kids throw at it, supported by our Lifetime Warranty covering defects in workmanship & materials as well as chipping peeling or cracking of the finish, for life!  We also have a concealed fastener so you don't have the ugly look of screws!
11. How do I know what a fence should cost?
It will vary by type of fence you will order, but the cost of a fence will usually be dependent on a combination of time and materials, and this can vary significantly from one contractor to another. An experienced contractor should be able to explain exactly what goes into a fence if you have questions why one wood fence costs more than another. The least expensive fence is usually cheap for a reason. Inferior materials and a shoddy installation process may lower the cost of a fence, but will always result in an inferior fence that will need to be replaced in five years or less.
12. Should I haggle over price?
Not if you are working with a reputable fence contractor. A reputable fence contractor should always give you his best price first, up front. If he doesn't, he is taking advantage of the possibility that you may not know everything you need to know about what you are buying. Be EXTREMELY wary of any contractor that will offer you a lower price to match or beat a competitive bid. If he is willing to do this, it means he was more than willing to overcharge you up front.
13. Will the final cost always match the estimate?
Basically, yes. A competent fence contractor will be able to provide you with a detailed estimate that will cover all anticipated costs, and some variables that may not be so easy to anticipate. For example, some subdivisions are known to have been developed on very rocky soil. If this is the case, a good contractor will put in his estimate contingency information that tells you he may have to use a specialized digging tool like the Dandy Digger if rock formations are below the soil. But unless there are changes to the original fence plan, like added gates or extra coverage, the final price should ALWAYS match the estimate. Do not go with a fencing contractor that will not make this guarantee!
14. Does the company ownership structure affect the cost of a fence?
It can. The ownership structure of any company can affect the cost of the product or service it sells based on the overhead and profit requirements in place. If there are shareholders or multiple partners in place, they likely need to see a greater return on each fencing job than a sole proprietor or family owned company does.
15. How do I know the crew will be there when they say they will?
This is where references can be a big help. Your contractor should be able to provide references that can attest to the professionalism of the crew that did the work, and also give you firsthand information regarding the details. If the installation requires more than one day, the crew should be there at the same time each day, no exceptions. If they cannot make it due to extreme weather or any other circumstances, you should be contacted at the time they would normally get started to be advised of this.
16. How long is a typical workday?
It varies by crew and company. The best crews like what they do, and get a sense of accomplishment by completing the jobs by working a little longer if necessary. The best companies encourage them to do just that, rather than leaving the yard until the following day for a couple hours to finish everything up.
17. When the crew leaves, will the job be 100% complete?
Any professional fence contractor will have a procedure in place that the crew goes through before leaving the job. This should include the job foreman and at least one crew member walking the entire job site inspecting the workmanship and the post job clean up, ensuring everything has been completed according to the initial plan and intent. The final action should be a meeting with the homeowner to answer any questions, provide maintenance suggestions, and demonstrate any components like gates or removable panels. The final invoice should only be presented when the homeowner is totally satisfied with the end result.
18. What if I don't know exactly where to put the fence?
If you do not have clearly defined lot lines, a good fencing contractor will help you arrange to have a survey done for you to determine exactly where your lot ends and your neighbor's begins. If you have questions about where the fence should be placed in the context of your home and yard, an experienced contractor will be able to give you guidance, backed by several examples of similar projects you can drive by to see for yourself how it would look in your yard.
19. I've seen the same types of products at big box stores for a lot less. How can they sell it so cheap?
The products sold at the big box building supply stores are not nearly the same quality you are getting from a reputable fence contractor. In addition, all installation of those products, if you do not do it yourself, are subbed out to contractors who may or may not even be in the fence business. For anyone who wants a quality job that will last more than five years, this is probably not a good option.
20. Will my yard be all tore up after the installation is complete?
When the job is complete, your yard should look the same as it did before the job started, except you now have a nice, new fence around it. The only evidence that there was a construction project at all will be the dirt that was displaced when the postholes were dug. The dirt should be raked up neatly into piles along the perimeter of the property, unless there is a specific location that was designated for it at the start of the job. There should be no ruts in the yard or any other sign that an installation crew was there. When installed properly, the new fence should appear to have "magically" grown out of the landscape.
21. What else do I need to be aware of?
Don't forget about your neighbors, even if one of the main reasons to have your fence installed is to keep them out. Installing a new fence is a disruption, and communicating in advance what to expect is a basic courtesy. Look for a contractor that understands this, and is willing to help you prepare them for what to expect. If your neighbors are informed up front of what to expect, when the installation will take place, and when it will be complete, they are much less likely to have a problem with it.
Interested in Fence from A to Z?
Here's How to Get a Quality, Reliable Fence
Four Simple Steps to Get Your Dream Fence Installed
Where Can You Find A to Z Quality Fencing?
Locations & Service Areas
A to Z Quality Fencing & Structures has two showroom locations in Wisconsin & Minnesota. Our service areas include all locations within a one-hour drive from each showroom plus additional areas in WI. Come check out our fencing displays and get your questions answered at our family-owned and operated showrooms! You will find the same family friendliness and professional helpfulness in choosing the right fencing style and materials for your needs at any location.