Installing a fence can be a difficult, time-consuming job. Traditional digging methods often require expensive and bulky excavation machinery and more time to allow for the materials stabilizing the posts in the ground to set. In addition, challenging locations such as tight corners or small spaces add to labor costs & time.
But what if we told you that installing quality fencing no longer involves this tedious procedure? A to Z Quality Fencing has developed an innovative no-dig fence installation method – that promises a revolutionary way for businesses and individuals within the fencing industry to achieve professional results without fuss. This expert guide will explore how quickly and effectively fences can be installed using this cutting-edge process!
Introducing No-Dig Fences – An Innovative Alternative To Traditional Fencing
A to Z Quality Fencing introduces No-Dig Fences – a revolutionary approach to fencing that has changed the industry landscape. Besides creating a way to install fences without digging (posts are pounded into the ground), we founded A to Z Fence Supplies to manufacture superior quality fence materials made explicitly for the no-dig fence installation method.
Pounding fence posts with customized fencing materials has made it much easier, faster, and more cost-effective for fence companies and their clients. It also means less mess and disturbance to the surrounding area, which is a win-win for everyone. In addition, no-dig fences provide an innovative alternative to traditional fencing, making a stronger, longer-lasting fence!
Benefits of No-Dig Fences for Fence Companies & Installers
Previously, fence companies needed more time and labor to install fencing with traditional methods. However, A to Z Quality Fencing has revolutionized the fencing industry with its process for creating no-dig fences. This revolutionary process renders digging holes for posts obsolete – instead, post drivers pound posts galvanized steel posts into the ground. This process results in significant time savings and reduced labor. No-dig fences from A to Z Quality Fencing will help you deliver higher-quality fences with more client benefits in less time!
How to Choose the Right Tools for Your No-Dig Fence
When you are selecting materials and tools for your no-dig fence installation, always take into account the specific needs of your project. For example, the fence height, fencing materials, terrain, and other factors impact the tools and galvanized steel posts needed for a successful fence installation. Our recommendation is to learn as much about the process as possible.
A to Z Quality Fencing aims to be an industry leader by sharing the process with the fence industry. Therefore, any fencing company is welcome to train with one of our installation crews on the no-dig fence installation method.
In addition, we sponsor and host round table Zoom discussions on various fencing topics, including pounding fence posts. Watch Facebook for announcements on joining us, or check out recordings of past conversations on the Fence Workers Association.
Finally, we offer tools and vinyl, aluminum, and other fence materials for sale in our supply store for other fence companies to level up their fencing businesses!
Step-by-Step Guide to Installing a No-Dig Fence
Installing a No-Dig Fence from A to Z Quality Fencing is easier than ever before! Our revolutionary process eliminates the need for digging holes and makes your fence installation project faster than before. This simple step-by-step guide explains all you need to know about installing a No-Dig Fence:
Choose your fencing materials and decide on their placement. Order the fence materials, including galvanized steel posts, high-density stiffeners, security features, and installation equipment.
Use the post-driver to quickly and securely pound the galvanized steel posts into any terrain without digging any holes. Please note that some posts may require traditional digging due to proximity to utilities or extra bracing for a gate.
Install the high-density stiffeners (a.k.a. donuts) to secure the post-sleeve covers to the galvanized steel posts.
Slide post sleeves in the finished material over the galvanized steel posts.
Install fence rails and sections according to the recommended fence installation method for the given fencing material.
Install fence gates, hardware, and security features according to the recommended installation method.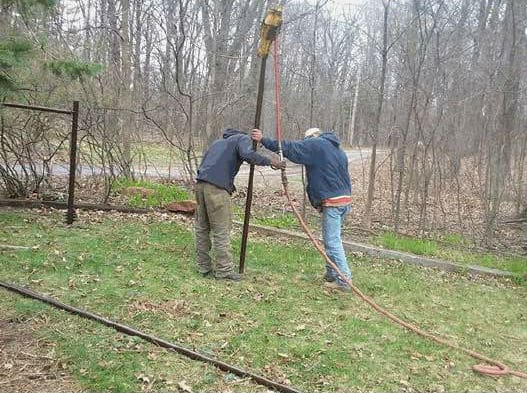 Following these steps, you can quickly turn your client's outdoor space into an oasis with a No-Dig Fence from A to Z Quality Fencing!
Frequently Asked Questions About No-Dig Fences
Are you considering pounding fence posts but have questions about the no-dig installation process? A to Z Quality Fencing is here to help. Our knowledgeable team is ready to answer any questions about this innovative approach.
We understand that many people are surprised by this new way of installing fences – after all, it's different from what we've been accustomed to for years. That's why we take great care in explaining every detail, from assessing conditions when conducting no-dig installations to sharing our extensive experience with the process. No matter your questions about our no-dig fencing solutions, A to Z Quality Fencing is happy to provide answers.
Common No-Dig Fence Questions
What preparation is required before installing a no-dig fence?
Before installing a no-dig fence, the property owner must clear the ground of debris, snow, or any other obstacles. Then, like any fence installation, you must call Digger's Hotline to get utilities marked and verify permits. Finally, any landscaping, such as ground leveling or hardscape installation, must be complete.
Are there any special tools needed for the installation of a no-dig fence?
Yes! A post driver is required. In addition, you will need handle extensions, adaptors, or sleeve reducers to accommodate the galvanized steel posts.
How quickly can I install a no-dig fence compared to a traditional one?
In our experience, the average no-dig fence installation method takes 30 – 50% less time than conventional fence installation! The significantly shorter no-dig fence installation time is a result of eliminating the need for excavation or concrete foundation work. 
Can I install a no-dig fence in challenging terrain or surfaces?
Absolutely! Post-pounders can pound posts in rugged landscapes (frozen ground, concrete, rock) without any adjustments or modifications.
What adjustments or modifications do I need to make to the design of a no-dig fence for different applications?
Design modifications are necessary when a post location is within 2 feet of utilities. In this instance, digging and setting a post is better to avoid a dangerous situation. 
We generally pound and brace gate posts with a tap root system. However, there are circumstances where gates require additional stabilization with a concrete footing requiring design modifications.
How do I ensure my client's satisfaction with their no-dig fence installation?
Proper education on installing a no-dig fence is critical to ensuring client satisfaction. Your clients will love the end product if you choose high-quality materials and follow installation recommendations.
In Conclusion
To sum it up, pounded fences are an excellent hardscaping option that could help you save both time and labor costs. Whether you're looking to install a no-dig fence or have the A to Z Quality Fencing experts do it, the process is much easier than you think.
Remember to research your local building codes, choose the right tools and materials for your fence installation, and follow the steps provided in this guide. If in doubt or if you have any questions about installing a no-dig fence, don't hesitate to reach out to A to Z Quality Fencing—their expert team will make sure that your fencing job gets done right the first time with minimal disruption and reliable results.
No matter what kind of fencing project you undertake, A to Z Quality Fencing has the experience and expertise required to ensure success. So embrace this innovative technology today and unlock your fencing business' potential with sturdy no-dig fences!