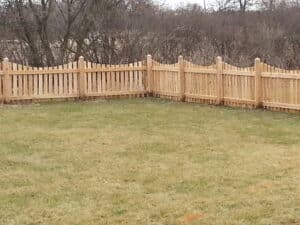 Last week we installed another quality fence comprised of 367-feet of our cedar 4-foot open picket with a concave scallop in the town of Jackson. Our customer had received several estimates from our competitors and even though we were not the lowest bid, he chose us because he liked our quality fence materials as well as our superior installation practices.
A Quality Fence = Heavy Materials + Master Craftsmanship
This customer liked the fact that our material was the thickest included on all the quotes. All of our post were cemented in ground 36-inch, except for the gate post, which were all 5-by-5 posts cemented in ground 48-inches. He really liked the fact that our gates are constructed head and shoulders of above the competition. All of A to Z Quality Fencing gates are built with mitered corners and 24 screw-shank nails, Gorilla Glue on all seams and a 7-inch screw in opposite corners. Most of our local fencing competition is using only 4-8 fasteners in the gate framework and rely on the picket nails to hold their gate frame square. That is like putting doors and windows into a house, not blocking it out properly and expecting the vinyl siding to hold the windows plumb and square. It would never work. Which is why we build gates that are meant to last!
Most of our cedar fences come with a French gothic post top routered onto the top of the post but this customer wanted something different. We routered what we call our classic top (pyramid) with two routed ribbons underneath the pyramid. This gives the fence a nice distinct look that adds to the beauty of the cedar fence.
Our customer had a large deck in his back yard that needed to be incorporated into the fence project. We brilliantly wrapped the fence around the deck so it not only was effective but tied in with the look. We also added a gate onto the existing top of deck. Now the customer can be assured his kids and dogs cannot escape the fenced in area.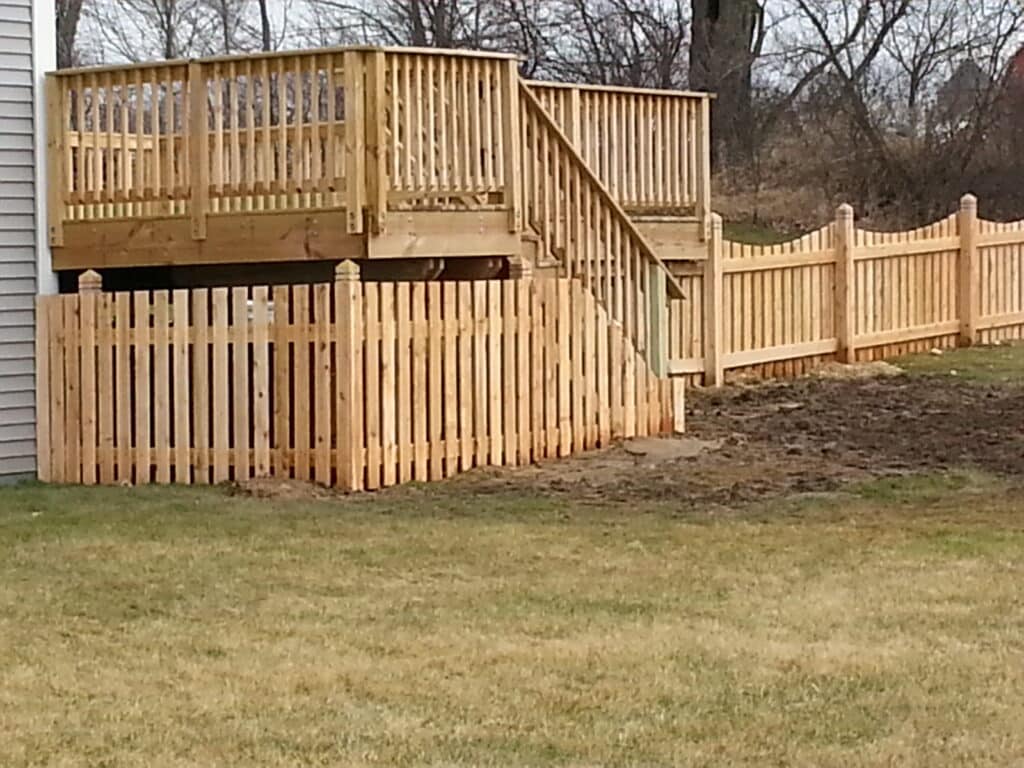 Our crew worked through the recent inclement weather last week and secured another happy customer for A to Z Quality Fencing. If you have a project and quality counts, or you have some areas you think may be difficult – we are the ones to call – check out our quality fence options now. Almost 20 years in business building fences that not only meet your needs but helps beautify your outdoor living space.