We've all heard stories of bad contractor experiences – everything from general contractors to fencing contractors. Contractors who take your money but don't do or finish the job; contractors that do sub standard work, cut corners and others that simply do not belong in business. Hopefully we can explain the best ways to do your research so that you don't end up with one of these – no matter what kind of contractor you are in need of.
By doing a little homework you will greatly improve your chances of having a good experience. The best way to get a good fencing contractor, or any other kind of contractor, is word of mouth. Start by asking your neighbor, friends or relatives about experiences they've had with a particular contractor. If you don't know someone that recently had the type of work done that you need…ask around….ask at work, church ,schools, etc…. Most likely you do know someone but don't realize it.
Another way to start the process is go to a reputable online review site. I stress reputable! Just because it is a popular review site doesn't make it reputable. There are online sites out there that pick and choose whose reviews are used and whose are not. For example, Yelp, is a very popular online review site but did you know it has over 2,000 complaints against its review process that filters out good reviews to try to force business to buy marketing package from them. Many businesses that have low marks on Yelp have many high ranking reviews that Yelp refuses to factor in. We do not consider this practice ethical or moral….and it should be illegal.
Where to Find Reviews
There are some very good contractor review sites out there. The Better Business Bureau, Angie's List, Facebook and Google all do a pretty good job. The Better Business Bureau and Angie's List are probably my two favorite review sites because they are locally based and have an actual process that must be followed in order to be accredited by them. In addition to the process for the business earning the accreditation, there is a process for customers to file a complaint. These two review sites do not rely on some piece of software or algorithm to choose which reviews to make visible and calculate a ranking as Yelp does. They show the good and along with the complaints, (and resolutions), so that visitors can make informed decisions based upon the whole picture.
Most online reviews can be done by anyone for any reason even if they are not actual customers. We got rated an F one time on one of the review sites by someone who was never a customer of ours claiming they called us and we never called them back. Unfortunately, things do happen….especially with phone messages. Many times people talk too fast when leaving a message that not only can you not make out number but can not even make out name.
First, always remember that a couple of poor reviews do not necessarily give you a good perspective of the contractor. Keep in mind first this phenomenon:
When someone has a bad experience with a business, they'll tell 10 people . . . when they have a good experience with a business, they might tell 1 person.
And secondly, if you're in business long enough and handle enough customers you're bound to get a couple of customers that you….or anyone else,,,, is going to please. They are generally the ones who yell the loudest and runs to the review sites so everyone can hear them. As fencing contractors, we deal with well over a thousand customers a year and always expect to have one or two of those "customers from hell". We alway attempt to provide the best customer service to make them happy when we are done.
Process for Choosing a Fencing Contractor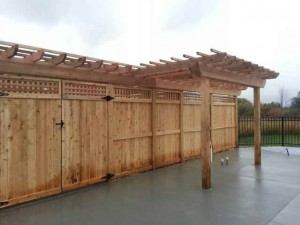 After doing your research and choosing at least three contractors, invite them out for an estimate. When they arrive, they should be thorough and not in a hurry. Under most circumstances they should be able to leave you a written quote that is very detailed on materials, installation and price. They should have discussed a time frame for installation as well as any thing that could arise that would alter the price. They should want to be up front with any unexpected cost!
Another thing to ask for from your prospective fencing contractor is three references. I would always ask for names of two recent customers and at least one that is several years old so that you can see how the work stands up. Your contractor should be familiar with your building local codes and inspection process. Even if you will be applying for the permit, the contractor should be able to walk you through the process. Also ask what the follow up procedures are once the job is complete. A good reputable company should have a procedure for contacting you after the job is complete to review your job and satisfaction.
Compare your three estimates and make sure you are comparing apples to apples. I know this can be confusing so ask questions….a good fencing contractor will be glad to walk you through the differences. Finally …..remember the cheapest price isn't always the most economical buy.
At A to Z Quality Fencing we strive not only to be the leaders in the industry but to lead the way in customer satisfaction. You can start by checking us out on reputable sites like BBB, Angie's list and Facebook. See our website to view our fence installations and also get an immediate quote online, complete with virtual fencing layout based on Google Maps. After "drawing" your fence on your lot, contact us for an onsite inspection where we will verify all measurements, gate locations, layout locations, style height and materials. We will discuss all options, how we install and why we use these fencing installation techniques. We will also discuss lead times, build time and of course the price. If at this time you are comfortable with signing the contract we will go ahead put you in our schedule. A to Z Quality Fencing will contact you about 1 week prior to installation to confirm the date. Of course weather and other things beyond our control could alter these dates but we will let you know. Once our crews start your fence, we will not go to another job until yours is complete. After the job is complete our Job Foreman will walk through the job with you to make sure your job is complete per contract. At that time the final payment is due to the Foreman.
Finally, in an effort to improve our customer service and our way of doing business, we have implemented a program that will follow up with you after the install. You will receive either a phone call from one of the owners or an email asking you to respond to a short survey about our service. For every survey filled out we will donate $10 to Boys and Girls Club of West Bend.