We just finished up a nice cedar privacy fence with a convex top cut on it in Theresa, WI. This customer found us by driving by our outdoor display on Hwy. 33 at the corner of Aurora Rd., just west of West Bend and east of Allenton, WI.
Privacy Needed Quickly!
This customer came into our showroom pretty upset because she just bought a new house last fall and felt she had a neighbor creeping on her…she needed privacy and fast. She browsed our selection of styles at our indoor display and choose the convex scallop. We then took her to our computer application and she used Google maps to plot her fence where she wanted. We worked her up a nice price quote and she was excited to get this job under way. I had Renee, (my wife and fence expert), meet her out at the job site the same day to walk through it. We incorporated a few minor changes based on the walk-through and her fencing contract was emailed to the customer that same day.To my surprise, at 7:30 the next morning, the customer was at our shop with contract and check in hand.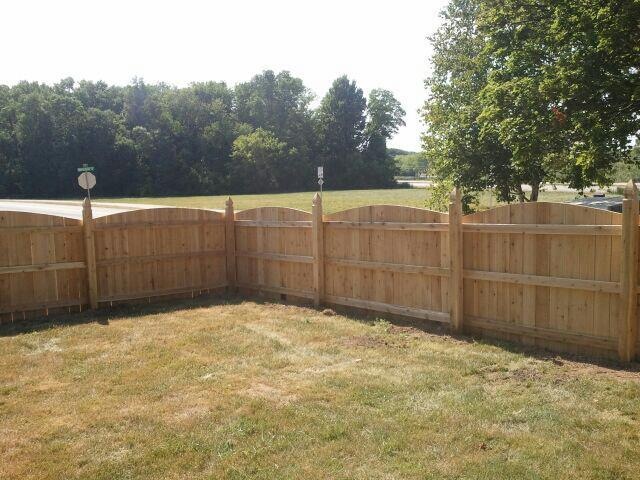 Privacy Fence Provides Peace of Mind
We scheduled the job for the following week. We called her on Monday to remind her we would be there on Wednesday and she was ecstatic that we could put it in that soon. It took our crew from 8am to 5pm to complete this fence. Our customer was extremely satisfied with her purchase and said she would recommend our quality and service in a heartbeat! She also said our fence made her feel more secure from her "creeping" neighbor as well as how beautiful the fence makes her backyard.
So no matter if you need some privacy from a "creeper" or just would rather have some seclusion in your backyard, remember we can help you with that while still creating a beautiful outdoor living space.
We install several styles of cedar fences for whatever your flavor may be.
Dog ear privacy,
Country picket,
Convex or concave scallop,
Privacy estate,
Privacy with lattice top
Open picket styles
You can choose from materials such as
Vinyl fencing,
Aluminum ornamental,
Chain link and many others.
We are here, ready and eager to help you with your fencing project, just give us a call at 888-FENCING or stop by our showroom at 6510 Aurora Rd, West Bend, WI 53090.