Do you have an unsightly nitrogen tank, dumpster or other area that needs a fresh look?
A custom structure or fence makes your outside area more enjoyable by hiding these less than attractive or dangerous areas.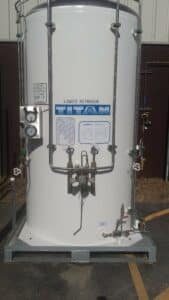 Last week at a business in Oconomowoc, we were contracted to build an attractive, custom structure around a nitrogen tank that not only covered the tank from sight but protected the tank from traffic. The structure needed to be 10' tall to match the height of the nitrogen tank and have double drive gates to access the tank.
We immediately went to work designing a custom structure using one of our vinyl fences from American Manufactured Vinyl Fence as a base keeping in mind this custom nitrogen tank structure must meet the needs of our customer and city regulations.
Here are the construction details on how we created this complex, functional, and attractive custom structure:
We used our Zachary 6' vinyl privacy fence as the base of the design extending the fence height to 10' tall. We installed 2-1/2" schedule 40 galvanized pipe into a 12" concrete footing set 48" in ground. The galvanized pipe extended out of ground 9'. These were installed at needed spots for posts. Then we used donuts (high density post spacers) from Modern Fence Technologies. We placed four of the donuts over each galvanized post, tightened them down and then slid the 5x5x10' vinyl post over that. The schedule 40 galvanized post strengthened the post up to handle the needed load.
Next we installed 2 aluminum H style post stiffeners at the spot of the gate. These are heavy duty stiffeners designed to handle the load of the gates. With this being double drive gates it's extremely important to have the post installed properly. We then sleeved the 5x5xx10's over the top of the stiffeners.
We then added three 2"x7"x5' long rails; one at top, middle and bottom. At the bottom and mid rail we put a galvanized stiffener to increase the load strength even more. Most of our competitors use a 1-1/2"x 5-1/2" rails…not the heavy duty 2"x7".
Then we add out 7/8"x7" interlocking tongue and groove panels between the rails. Many companies use a ½" or a 7/8" tongue and groove panel. (It just doesn't seem strong enough to me.)
Finally we hang our double gates. Our double gates are one of the only vinyl gate system with a fully welded galvanized steel frame welded completely inside the gates. So you get the added strength of the steel frame without getting the look of the steel frame. We finish it off with stainless steel hinges, latches, caps and a 1" thick drop rod from Modern Fence Technologies.
Oh yeah…I forgot to mention that we installed 3 6-5/8" schedule 40 bollards set in a 12"x48" concrete footing standing 48" out of the ground to protect the custom structure and nitrogen tank from being damaged.
So if you have a nitrogen tank or any other unsightly object, or just need some privacy, call us at A to Z Quality Fencing. We can make your outdoor area more enjoyable with a custom structure or fence.