A to Z Quality Fencing is delighted to introduce our two latest innovations in fencing that provide property owners with the ultimate privacy and style.
Our Modern Aluminum with Vinyl Series combines an eye-catching aluminum privacy fence with an aluminum frame and vinyl privacy inlay to create a unique design aesthetic with sleek lines and privacy not obtainable with traditional aluminum fencing. Similarly, our Modern Aluminum with Cedar Series is a stunning combination of modern vibes and timeless cedar inlay.
With these latest innovative designs from A to Z Quality Fencing, you won't have to sacrifice privacy or style when selecting your ideal fence solution. Please keep reading to learn more about what differentiates us from the competition!
Modern Aluminum with Vinyl Series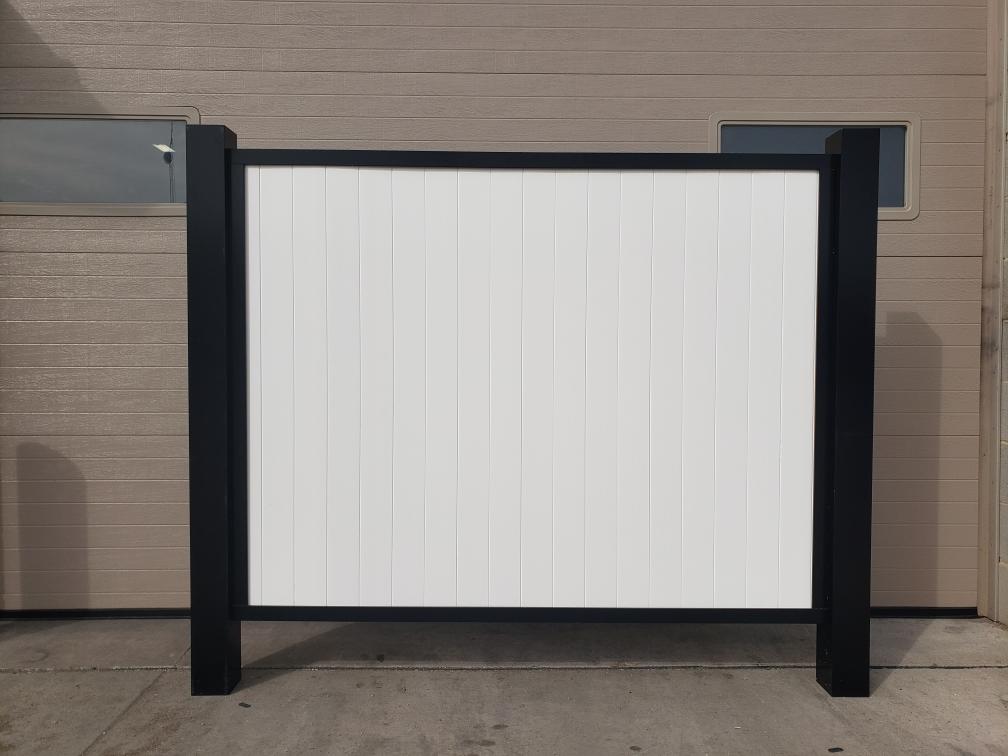 Are you looking for a fence that combines durability with style? Then, the Modern Aluminum with Vinyl Series might be just what you need. With heavy-duty aluminum posts and rails, this fence is built to withstand even the harshest weather conditions. But that's not all – this series also features vinyl privacy inlay in your choice of white, almond, or chestnut brown. The combination of aluminum and vinyl creates a sleek and modern look that will complement any outdoor space. Plus, the vinyl inlay offer added privacy without sacrificing aesthetic appeal. So upgrade your fence game with the Modern Aluminum with Vinyl Series.
Modern Aluminum with Cedar Series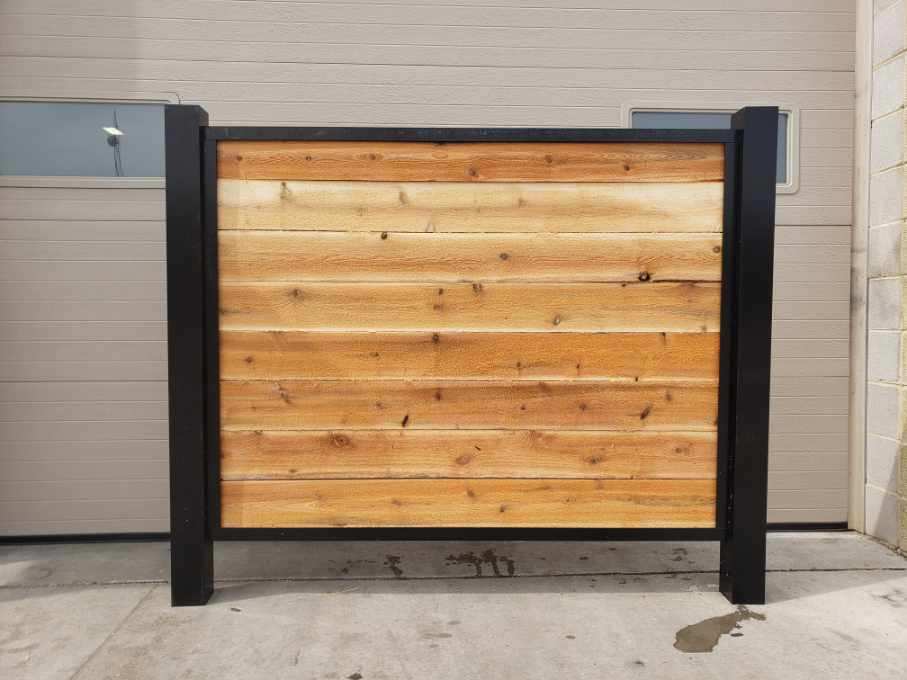 Transform the look of your property with our highly durable and stylish Modern Aluminum with Cedar Series. Crafted with industrial-strength posts, rails, and premium cedar plank inlay, the Modern Aluminum with Cedar fence is beautiful and functional. The sleek aluminum and warm cedar perfectly balance modern and rustic aesthetics. Imagine welcoming guests with a fence that exudes sophistication and security. Plus, our low-maintenance design means you can enjoy the beauty and privacy of your fence with minimal upkeep. Your property deserves nothing but the best, and our Modern Aluminum with Cedar Series delivers just that.
Benefits of our new products for ultimate privacy and style
Are you tired of choosing between style and privacy for your outdoor space? Our new Modern Aluminum fences offer the perfect solution. Not only do they have the sleek look of aluminum, but they also provide the ultimate privacy you need. You no longer have to sacrifice style for privacy – you can have both. These aluminum privacy fences are perfect for creating a private oasis in your backyard while maintaining a modern and stylish aesthetic. So say goodbye to limited privacy fence options and hello to a beautiful and functional addition to your home. Upgrade to our new Modern Aluminum fences and enjoy the benefits of ultimate privacy and style.
Design options for both modern aluminum series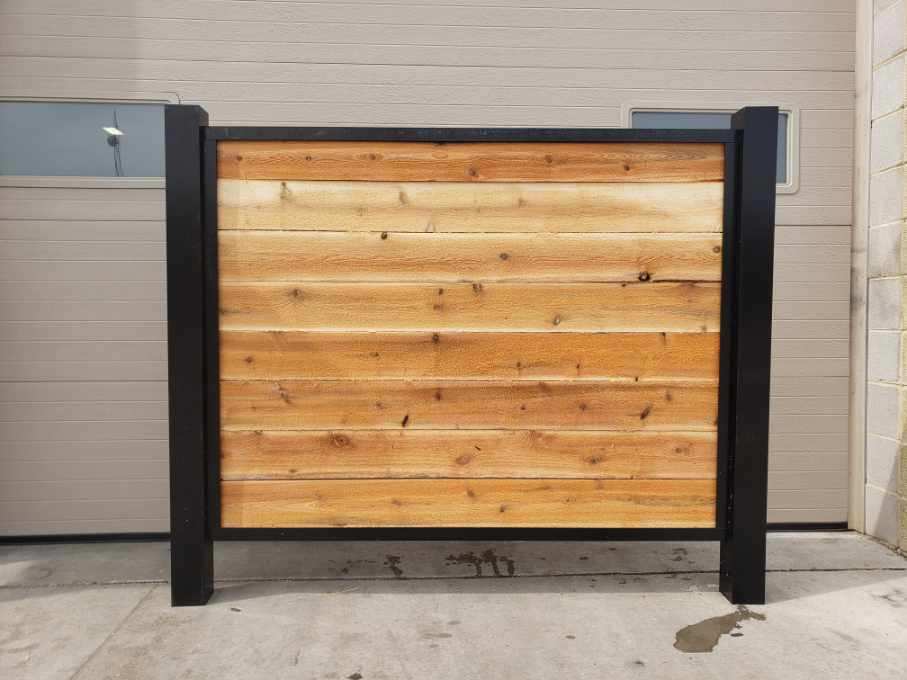 When it comes to Modern Aluminum series fence design options, there are plenty to choose from. There are different height options of 4, 5, or 6 feet, and you can also select from various vinyl inlay colors, such as white, almond, or chestnut brown. And if that's not enough, you can also insert the inlay horizontally or vertically. With these options, you'll find the perfect fence design to complement your home's aesthetics and elevate curb appeal.
Need help? Our "Fenceperts" are designing, manufacturing, selling, installing and servicing our products and can answer any of your questions.
Installation process
When installing a fence, the process can often cause unnecessary headaches and mess. However, with our no-dig, no-mess installation method for the Modern Aluminum 4″ x 4″ posts, you can rest easy knowing your fence will be installed securely and on time. Forget about the hassle of dealing with huge piles of dirt and debris. Our method ensures a clean and efficient installation process. (If desired, this fence can be installed with standard dig/concrete installation too.) Trust us to handle your fence installation needs with ease and professionalism.
Get a quote on the Modern Aluminum privacy fence today.
Transform the look of your property with the sleek and contemporary design of the Modern Aluminum Series fence. It will add a touch of elegance and privacy to your outdoor space that you won't regret. Our Modern Aluminum Series provides a perfect blend of durability and privacy and offers unbeatable curb appeal to make your home stand out. So why wait any longer? Get an instant estimate for your dream fence today using our online design tool and elevate your property's aesthetic!
In Conclusion
A to Z Quality Fencing takes great strides to create innovative, stylish, and secure fencing solutions. Each of our Modern Aluminum series offers various design options that can provide the utmost privacy and style. Regardless of your preference, our team of experienced professionals will work with you through each stage of the design and installation process to ensure that every detail is correct, realizing your vision. So if you want ultimate peace of mind knowing you're surrounded by modern quality fencing that looks great for years to come, get a quote on our Modern Aluminum privacy fence today!