Are you seeking a durable, attractive fencing option that won't break the bank? Vinyl fencing is an excellent choice for both homeowners and business owners! Unlike big box stores that offer limited choices at lower prices, A to Z Quality Fencing's custom-fabricated, commercial vinyl fence options will meet your needs and save you money in the long run. From privacy-enhancing designs to custom picket spacing, our vinyl fences are designed to last with minimal maintenance required.
We've broken down 15 reasons why choosing commercial-grade vinyl over pre-fabricated deals will save you time and money in the long run. No matter what kind of property you manage or own, it's worth taking a closer look at these benefits when deciding!
What You Need to Know When Comparing Fence Products & Companies
Be Careful of Misleading Terminology
Have you ever heard the terms "commercial vinyl fence" and "residential vinyl fence" thrown around in the fencing industry? At A to Z Quality Fencing, we understand that these terms may confuse or mislead homeowners. That's why we want to set the record straight. When we install vinyl fencing, our standard product is a commercial-grade vinyl fence, but that doesn't mean it's exclusively for commercial properties. In fact, it's perfect for any homeowner looking for a durable and long-lasting fence.
On the other hand, residential vinyl fence often refers to economy vinyl fence, which is not the same as our superior commercial-grade product. This product is similar to those found in big box stores and geared towards the DIYer. Don't be fooled by industry jargon. Let our experts help you understand the terminology and choose the right fence for your property.
Most Fence Contractors Use Economy Grade Vinyl Fencing
In this article, we compare A to Z Quality Fencing's commercial vinyl fence to big box store fence. Please be aware that most other fence contractors use products very similar to the big box stores. You cannot assume that because they are a fence contractor that they are using contractor-grade materials. Do your homework and understand exactly what is being offered so you can compare apples to apples when making decisions on this big purchase for your property!
15 Reasons Commercial Vinyl Fence Trumps Big Box Store Deals
1. On-Site Assembly
There are two options for vinyl fences: pre-assembled sections or on-site assembly. While big box stores may offer pre-assembled sections, our product is designed to be built on-site. Why is this important? Our on-site assembly allows for terrain accommodations, meaning your fence will fit perfectly even if your land isn't flat. Besides offering all the benefits of custom assembly, we can use heavier materials to create a higher-quality fence.
2. Stronger Posts
If you're looking for a fence that can withstand the elements over time, you need the strongest fence posts possible. Our fence posts are stronger than your typical posts as they contain a galvanized steel post running through their core. (They are installed with our No Mess No Dig Installation process.)
In addition, the profile of our vinyl posts is thicker than economy vinyl, 0.147″ thick versus 0.135″ thick. Both the galvanized steel post and the thicker vinyl makes the posts more durable and less likely to bend or break under pressure.
Finally, we also make sure that our vinyl posts are the correct size for the height of the fence. For example, our taller, larger privacy fencing uses 5″x 5″ vinyl posts as opposed to the smaller, hollow 4″x 4″ ones you generally find on privacy fencing at big box stores.
3. Heavy Duty Rails
Heavy-duty rails can make a huge difference in the strength and durability of your fence. The fence rails hold the pickets in place. Our company uses commercial-grade rails, which accommodate thicker, more sizeable pickets, provide superior hold, and prevent sagging and coming apart. For example, our Zachary privacy fence uses a 2″ x 7″ Deco rail with grooves that make the railing even stronger. This starkly contrasts the 1.5″ x 5.5″ rails typically used in economy-grade fences. These smaller, straight rails are only suited for holding thinner, smaller pickets in place, which creates a flimsy fence that won't last as long.
4. Quality Assembly
We take pride in our craftsmanship and attention to detail regarding quality assembly. Our posts are expertly routed and notched, using custom CNC cutting to guarantee that every piece fits together perfectly, creating a finished product that looks great and will stand the test of time, unlike the big box stores, which rely on flimsy brackets and screws to hold everything together.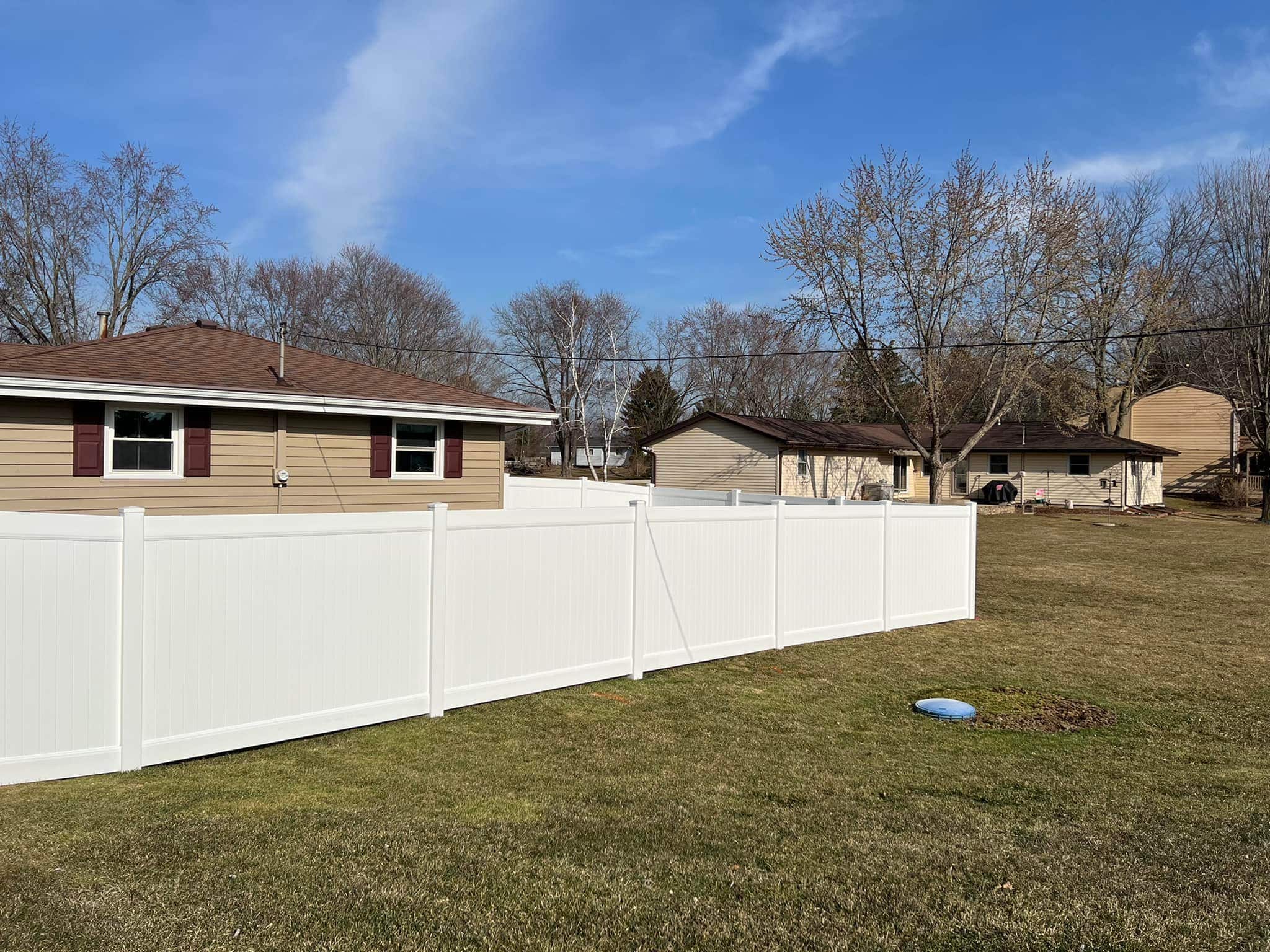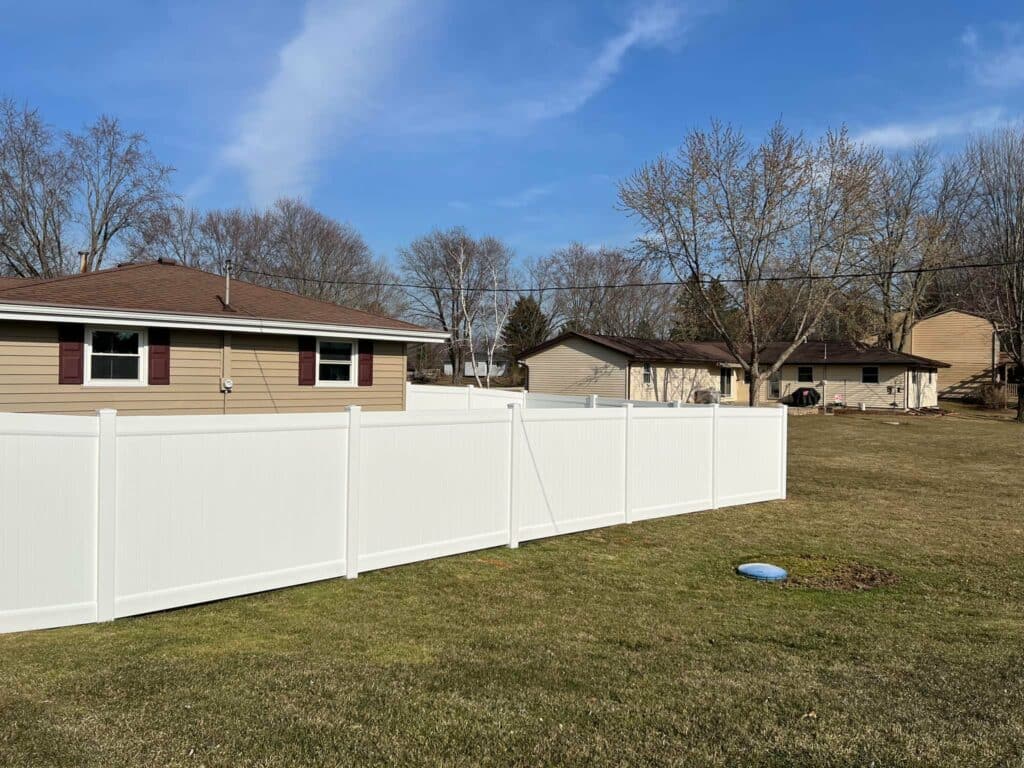 5. Bigger Pickets
Our pickets are bigger and sturdier than the competition, measuring in at a solid 7/8″ to 1.5″ thick depending on the fence style. With a fence made from these hefty pickets, you can rest easy knowing that your barrier will stand up against even the harshest weather conditions. Plus, the added thickness creates a fantastic sound barrier, keeping unwanted noise out and creating a peaceful oasis in your own backyard. Choose our bigger pickets for a fence that's built to last and designed to protect.
6. Quality Control and Repairs
Our commercial vinyl fence materials are manufactured by our sister company, A to Z Fence Supplies, which takes great care in ensuring that our products are of the highest quality. If a piece of our fence is damaged during manufacturing, shipping, or after installation, we can easily replace it with another piece, restoring your fence to its original condition. This saves you time, money, and the hassle of replacing an entire post or fence section in case of damage. In contrast, big box stores offer fencing material that is often harder to repair and replace, leaving you frustrated and with a fence that can't be repaired or doesn't quite look as good as new.
7. Thicker Vinyl
When it comes to vinyl extrusions, thickness matters. The profile of our vinyl is significantly thicker than our economy vinyl competitors and big box stores. For example, our fence posts are 0.147″ versus 0.135″. The extra thickness may seem small, but it makes a big difference in the durability and strength of the vinyl. With a thicker wall, our vinyl products are less likely to bend or break under pressure, ensuring that they will hold up better over time than any thin wall vinyl. For example, our vinyl is less likely to chip, break, or crack if accidentally hit.
8. Custom Fabrication
When it comes to custom fabrication for your fence, the options are endless. With the ability to choose your fence height, style, picket spacing, picket cap, post cap, top edge style, and color, the possibilities are truly limitless. One of the best parts about custom fabrication is the ability to choose from some of the most natural-looking simulated wood options. When you compare these endless features to the one-size-fits-all options in pre-assembled big box store sections, there really is no competition. The beauty of custom fabrication lies in the ability to create a fence that is uniquely yours.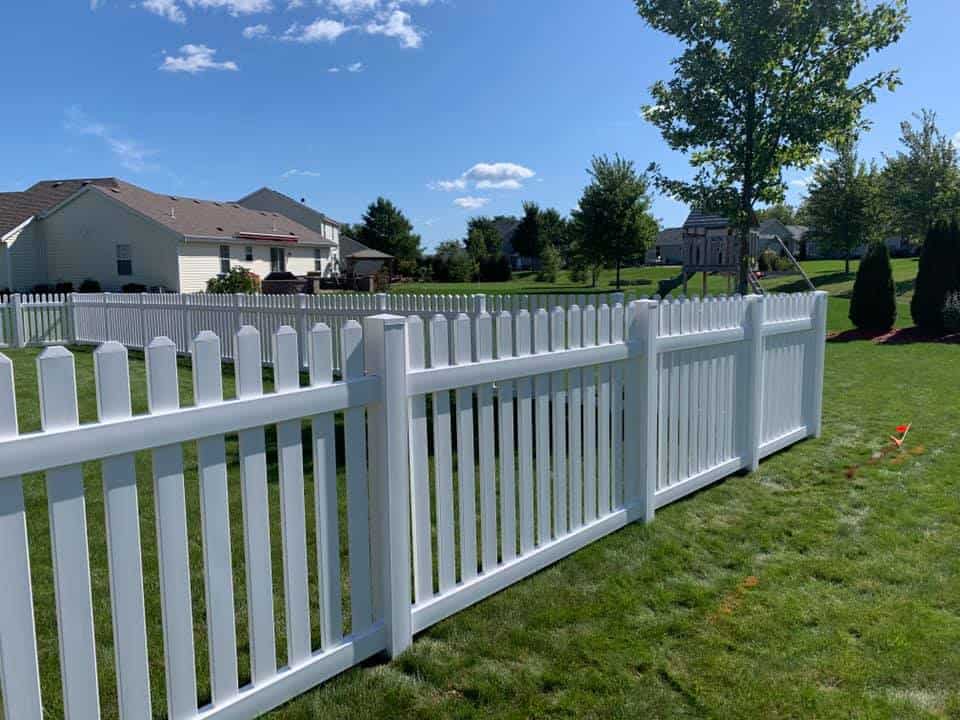 9. Made in the USA
When it comes to choosing vinyl products, it's important to pay attention to where they're manufactured. That's why we're proud to say that our vinyl is 100% made in the USA. We believe in supporting local businesses and ensuring that our products are of the highest quality. Unfortunately, many of our big box competitors choose to manufacture their vinyl overseas. This means that the quality may not be up to par and that American workers are missing out on job opportunities. When you buy our vinyl, you can feel good knowing that you support American workers and get a high-quality product.
10. Consistent Coloring
Our vinyl products are designed with a uniform color throughout, so if you ever end up with a chip or knick, you won't have to worry about it standing out like a sore thumb. Unlike other vinyl extrusions that often have varying colors on the interior, our vinyl won't show any unexpected hues if damaged. Consistent coloring ensures that your investment will look great for years to come.
11. Channels & Other Details
When it comes to fencing, it's all about the details. One detail that can make a huge difference is the addition of side channels. We add these to some of our fence styles – like our popular Zachary privacy fence – to hide any gaps between the post and picket and create a polished, professional look. Unfortunately, you won't find this feature and on the privacy fencing available at most big box stores.
12. Durability
When it comes to installing a fence, durability is one of the most important factors to consider. While an economy vinyl fence may seem cost-effective, it won't last as long as a commercial one. Investing in a higher quality product will pay off in the long run with a fence that has a longer lifespan. Commercial vinyl fences are built with features that make them stronger and more durable, from design to material to installation.
For example, we build our fences with a solid, sturdy bottom rail 2″ above the ground. This rail carries the weight of the fence, holds the pickets in place, and protects the pickets from accidental dammage. The 2″ clearance gives you room to operate equipment, like a weed whacker near the fence without damaging it. An accidental strike is less likely to damage the rail than a picket.
13. Gates
Satisfaction with your fence may hinge upon the gates used to enter and exit your fenced areas. Our gates are vinyl welded (like your vinyl windows). This makes them rigid, prevents sagging, and eliminates movement. Economy vinyl gates are what we call "screwed, glued, and tatooed" together.
In addition, our hardware and underground supports from Modern Fence Technologies solidify and enhance the quality of our vinyl gates' functioning for years.
14. Fenceperts (a.k.a. Fence Experts)
If you're in the market for a fence, you want to ensure you get the best advice possible. Buying commercial vinyl fences from a reputable company gives you expert resources. Our Fenceperts are the experts in all things fencing. We can easily answer any questions you have and help you find the perfect fence for your home or business. Unlike the big box stores where you may be left to your own devices, we'll provide you with one-on-one attention and guidance to ensure that you're making an informed decision.
15. Warranties
When you invest in a fence or structure for your home or business, you want to know that it's built to last. At A to Z Quality Fencing & Structures, we stand behind our workmanship with a Lifetime Craftsmanship Warranty that ensures you get top-quality products and installation. But we don't stop there. We also offer a non-prorated, lifetime warranty on our vinyl products, so you can know that they'll be free from defects in material and workmanship for as long as you own them. Unfortunately, the same can't be said for big box store fence products with no warranties of any kind.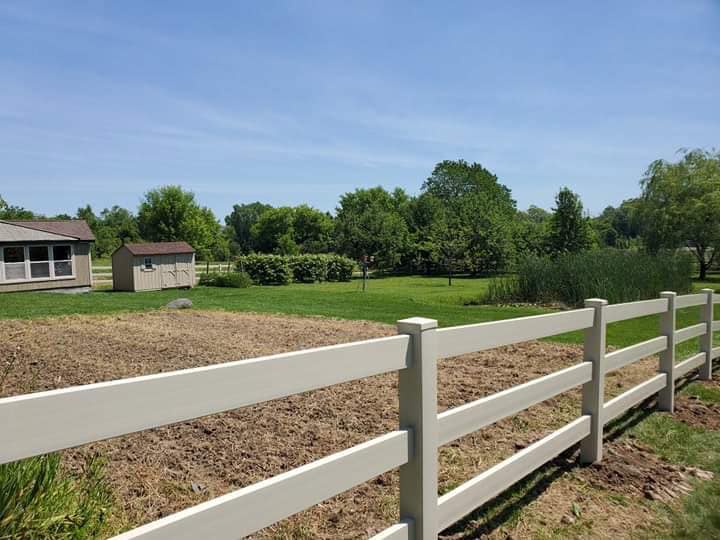 The Evidence is Overwhelming
With the advantages outlined in this blog, it's clear why commercial vinyl fences surpass big box deals. As one of the most durable types of fencing available, a commercial vinyl fence is an asset to any property. From on-site assembly to warranties, these 15 reasons prove that a higher quality investment can go a long way for both residential and commercial applications. In addition to increased security around one's boundaries, customers can rest assured knowing they have chosen the best possible option when opting for vinyl fence installation. Get an instant quote on your vinyl fence today!