Are you looking for a fencing option that will last? Aluminum is the perfect solution for homeowners who want reliable protection without sacrificing aesthetics. Its lightweight construction and various styles make finding the perfect look for your home easy while benefiting from low-maintenance, durable material. In this blog post, we'll discuss why a commercial aluminum fence is perfect for residential use even though a residential aluminum fence is available! Read on to learn about the advantages of using commercial-grade aluminum fencing in your backyard or other outdoor space.
What is the difference between a Residential Aluminum Fence and a Commercial Aluminum Fence?
Knowing the difference between residential and commercial options is important, especially when comparing products from different companies. When it comes to aluminum fencing, the main difference is in its strength and durability.
Residential aluminum fences are what many contractors install and the type of aluminum fence material you find at big-box stores. Residential-grade ornamental aluminum is designed to offer security and aesthetic appeal as cheaply as possible.
Whereas contractor-grade, commercial-grade, or commercial aluminum fences describe heavier, thicker materials to withstand usage and the test of time. This grade of aluminum is often necessary for taller aluminum fences and applications where security is a top priority.
However, just because it is called a residential aluminum fence does not mean you should install it in your yard! Read on to see why A to Z Quality Fencing recommends using a bolder, heavier commercial aluminum fence around your home.
Overview of the Benefits of Installing Commercial-Grade Aluminum Fences for Residential Use
Anything man-made degrades with usage and time. Choosing quality fencing materials and maintaining them properly is how you prolong the life of your fence! At A to Z Quality Fencing, we fabricate our high-quality ornamental aluminum fence in three grades: residential, commercial, and industrial.
All our aluminum fences offer a wide variety of benefits, including their durability, affordability, and versatility in design. They are resistant to rust and moisture and come in various colors and styles to match any aesthetic preference. Additionally, aluminum fences require minimal upkeep, saving you time and money.
Comparison of Commercial Aluminum Fence to Residential and Industrial
The comparison chart below highlights the differences between our grades of aluminum. In general, our sister company, A to Z Fence Supplies, sells residential-grade aluminum to DIYers on a budget. We install commercial and industrial-grade aluminum fences and sell them to other contractors.
| Features | Residential | Commercial | Industrial |
| --- | --- | --- | --- |
| Post size | 2″x2″ | 2.5″x2.5″ | 4″x4″ |
| Picket size | ½" | ¾" | 1″ |
| Section Width | 6 ft. | 8 ft. | 8 ft. |
| Color (Black, bronze, & custom) | ✔ | ✔ | ✔ |
| Styles (5 available) | ✔ | ✔ | ✔ |
| Deco Rail | ✔ | ✔ | ✘ |
| O-Rings | ✔ | ✔ | ✔ |
| Extra Pickets/Puppy Panel | ✔ | ✔ | ✔ |
| Hardware (Modern Fence Technology) | ✔ | ✔ | ✔ |
| Durability* | ✮✮✮ | ✮✮✮✮✮ | ✮✮✮✮✮ |
| No Mess, No Dig Installation Method | ✘** | ✔ | ✔ |
| Cost | $$ | $$+ | $$$ |
*Residential aluminum is durable however the top rails tend to sag over time creating a wavy appearance. In addition, without the No-Mess, No-Dig Installation process, there isn't a reinforcing galvanized steel post inside the aluminum post. **We choose not to pound residential aluminum because it adds cost to the fence without adding enough durability to justify the increase in price. Our recommendation is to spend wisely and upgrade to commercial aluminum instead!
Benefit Summary
With its sleek appearance and long-lasting durability, a commercial aluminum fence from A to Z Quality Fencing is the perfect choice for any homeowner looking to enhance their property because:
It's a heavier-duty aluminum fence and avoids issues with the top rail sagging over time.
Bigger posts and pickets withstand the elements and usage for longer.
Larger sections require fewer posts and less labor to install, reducing the cost of a commercial fence to slightly more than an installed residential ornamental aluminum fence!
Comparing Prices Between Residential and Commercial Aluminum Fences
When it comes to installing an aluminum fence, the decision between residential and commercial grade can make all the difference. While residential aluminum fences can only support 6-foot wide sections, commercial aluminum fences can hold up 8-foot sections, allowing for fewer posts to create the fence. Post-installation is often the most costly and labor-intensive part of fence building, so reducing the number of posts needed can save time and money.
In fact, switching from residential to commercial-grade aluminum can result in a 25% reduction in posts for a typical 200-foot fence, saving on materials and labor costs. While you might expect the commercial aluminum fence to come with a significant price increase, there's only a $500 difference on average between the two options, making the commercial aluminum fence a smart investment for those looking to save in the long run.
Examples of A to Z Quality Fencing's commercial (and industrial) aluminum fence installations.
How to Choose the Best Aluminum Fence for Your Property
Choosing a fence for your property can be difficult, but choosing the right aluminum fence can elevate your home's aesthetics while increasing security and privacy. With so many options on the market today, it's important to consider the details of your property, personal style, and functional needs.
Factors such as the height, picket cap, style, and color can all significantly impact the overall look and feel of your fence while ensuring that your home is secure and protected. By selecting the right aluminum fence for your property carefully, you'll be able to create a welcoming and secure environment for your family and guests to enjoy.
Advantages of Professional Installation for Aluminum Fencing
When it comes to installing an aluminum fence on your property, it may be tempting to take on the task yourself. However, there are several advantages to opting for professional installation. For starters, professional installers can access commercial aluminum fence materials and all its benefits!
In addition, they have the experience and tools necessary to get the job done efficiently and correctly. They will also be able to advise you on the best placement for your fence and make any necessary adjustments to ensure that it is level and secure.
Additionally, many professional installers offer warranties or guarantees on their work, providing you with peace of mind knowing that your fence is in good hands. Investing in professional installation for your aluminum fence is a smart way to ensure your property is secure and looks great for years.
Maintenance Tips for a Long-Lasting, High-Quality Aluminum Fence
When you invest in an aluminum fence for your property, you want to ensure that it lasts for a long time and maintains its quality. Here are several tips you can follow to achieve this goal.
First and foremost, choose a high-quality grade aluminum (like A to Z Quality Fencing's commercial aluminum fence)! Our high-strength aluminum alloy fencing, with its extremely durable powder coat finish, is built to withstand the elements and never requires painting or an additional protective coating.
Select a company that offers warranties on installation and materials. A to Z Quality Fencing & Structures offers all our customers a Lifetime Craftsmanship Warranty! In addition, we provide aluminum customers a non-prorated lifetime warranty on all materials, including the fence's finish, against cracking, peeling, chipping, and corroding.
Regularly inspect your fence for any signs of damage or wear and tear. If you notice any issues, promptly address them to prevent them from escalating.
Finally, hose your fence down at least once a year to remove dirt and debris that can cause damage.
By following these simple tips, you can enjoy your beautiful aluminum fence for many years to come.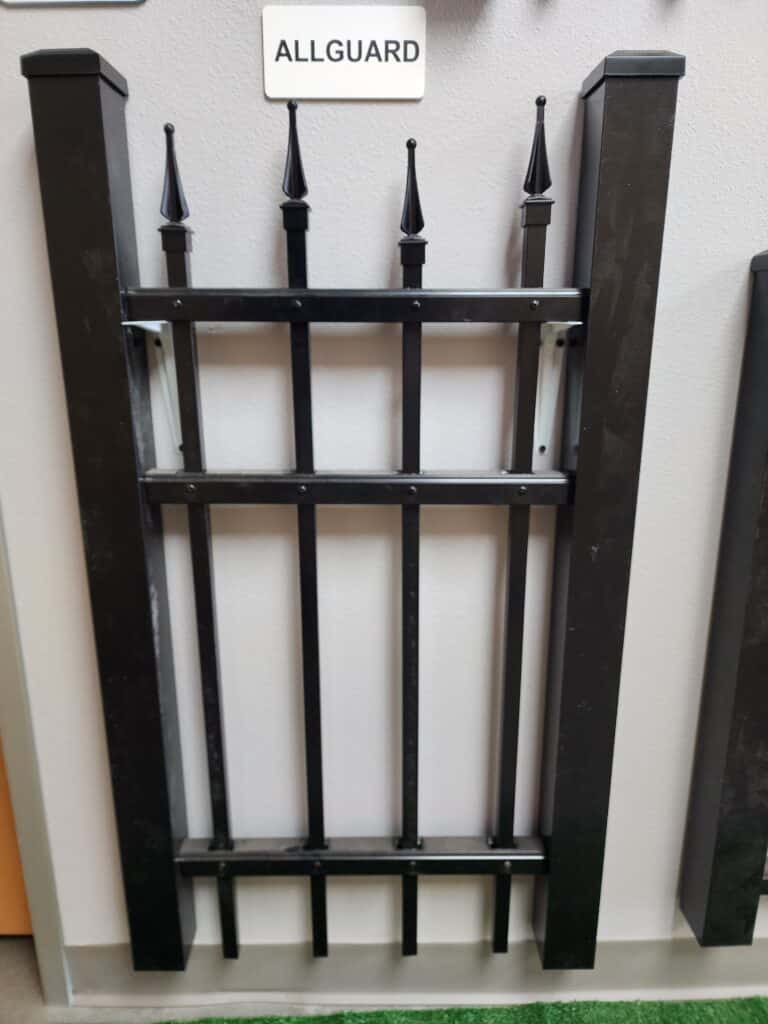 As you can see, residential and commercial-grade aluminum fences differ in price, construction, and the purposes they serve. Considering all of these factors, it's easy to understand why commercial aluminum fencing is a great option for residential use.
In addition to savings in cost over time with its durability and lack of maintenance requirements, homeowners can benefit from the security and aesthetic value. Contact a professional fencing company if you need help selecting an ideal fence design for your home or business. They are especially helpful when determining what type of fence best suits your specific needs by selecting materials that provide protection and great value.
Lastly, properly maintaining your aluminum fence will keep it looking new and remain an effective barrier over the long term. Choose a commercial aluminum fence for your property today and ensure lasting beauty and security for many years!
When protecting your home or business, the wrought iron fence is one of the most reliable and aesthetically-pleasing fence material…
If you live in an area with deer, you know they can wreak havoc on your garden. But did you…
For many reasons, an aluminum fence is an excellent choice for your next fencing project. It is durable, low maintenance,…